The Fun Stuff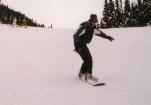 I am a competition skydiver with more than 3000 relative work jumps. I thrill on 4-way, 8-way, and 16-way fast, multiple-point skydives, as well as BIG FORMATION LOADS. To get more information on the sport that gives me life, you can always go to my Skydiving Page. When the weather is bad and I can't do any of the above, I usually work with computers or check up on my investments in the stock market.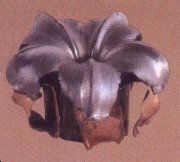 So what the hell is this thing on the left? It's an expanded, .45 caliber, jacketed hollowpoint bullet, after being shot through ballistic gelatin. I have recently picked up shooting. I usually participate in IPSC and IDPA shooting matches, where you test your practical and tactical shooting with a semiautomatic pistol. I've shot Glock, Smith and Wesson, Colt, and Beretta, all the way from .22 caliber through the incredible .50 caliber Desert Eagle, as well as MP-5 and Thompson machine guns. But I like the Sig SauerP-220, since I can shoot it fast, comfortably, and accurately. This is my carry gun, and my match pistol as well. Action shooting is just awesome, you run through a series of courses of fire designed to challenge your accuracy and speed. I am currently a Class-D shooter in the Limited Class of the United States Practical Shooting Association. I'm looking to improve my skills to become an A-class shooter within the next year or so. I've picked up a keen interest in ballistics as a result of shooting.
I am also a private pilot with over 150 flying hours. I learned to fly at Orlando Executive Airport in 1994. I love to fly early in the morning or late in the afternoon hours, when the air is smooth and the sky is clear. I also enjoy flying over water. But what is really magical to me is night flying. It is simply AWESOME.. If you want, you can find out about my aviation accident. I came out without a scratch from this one. I lost power shortly after takeoff, then had to make an emergency landing into Lake Virginia.

I went to the American School of Lima, graduated in 1988, then came to the United States and continued my education at The University of Texas at Austin. I started in Aerospace Engineering, and later changed and graduated with a Bachelor of Science in Mechanical Engineering.

I'm still an aerospace fanatic. If I could have had it my way, I would have been an astronaut. Try my favorite web site, NASA.You will find more information here than you ever thought imaginable. Also try Boeing.for a virtual tour of their new aircraft. Popular Mechanics is also pretty cool, I look in here for new models of cars, aerospace articles, discoveries, new technologies, and other stuff of miscellaneous interest.

If you are actually looking for naked girls, you are at the wrong internet site, however, since you will undoubtedly want to look for them at some point in time, I'll throw in here a link to one of the most tasteful sites on the Internet for this subject. You can degenerate yourself on your own, there's plenty out there.