Skydiving
Freefall is one of the most beautiful experiences that life has to offer, and missing out on the opportunity to do so is almost a sin. There is something magical about being able to freefall, being able to get together with others in the middle of space, a place where few have been. The air is a skydiver's sanctuary.
---
Memorable Jumps
1991 My First Jump-"Why Should I Jump Out of a Perfectly Good Airplane?"

Well, first of all, there is a big misconception here: the airplanes you will jump from are not perfectly good to begin with. Jumping out of an airplane is not something everybody does every day, so making the first one actually requires a combination of shear guts and plain stupidity. And I really don't know which one of the two overtakes the other the first time you do it. Nevertheless, the common denominator is fear. Fear of an unknown medium. If you are not afraid, something is wrong with you.

It is perfectly natural to fear falling from an airplane travelling at 13,000 feet, then plummetting over 100 mph towards the ground. When people think of skydiving they combine their fear of heights to the fearful sensation of falling. Skydiving does not offer either of the two. The fear of heights comes as a result of comparing your location to other objects around you. In freefall, you have nothing to compare your location to. You are too far away from the ground. And even though you are falling through 1000 feet every 6 seconds, you can barely detect a change in distance to the ground below you.

What about the sensation of falling? None, because once your body reaches terminal velocity, there will be no more acceleration, and you will actually feel WEIGHTLESS. You will feel that you are indeed flying. In a rollercoaster, your stomach seems to fall out, because the cart accelerates from 0 to 60 mph in about 2 seconds during the drop. In skydiving, when you jump out, you are already travelling at the speed of the airplane, about 75-80 mph. It takes about 10 seconds for you to accelerate to terminal speed, 100 mph. This acceleration is so gradual, that you don't feel that you are actually falling.

I can still remember my first jump, as do all skydivers. The drive to the dropzone, the ground preparations, the ride to altitude...AHHHH!!! It's all coming back to me again. You are at 12,500 feet above the ground, your instructor points out the window, and you cannot believe how high you are. You look at your altimeter, only to confirm that what he says is true. The door opens, and all the air starts rushing in. The adrenalin is RISING! You look out the door, and all you see beyond the edge of the door is just empty space! Holy shit, you're actually going to do it, how did you get here? why are you doing this? It's too late! You are holding on to the strut of the airplane with your two hands, and the instructor is giving you the count.... READY! SET!, GOOOOOOOO! You are finally FREE! You can't believe the ecstasy, it is complete sensory overload. You don't really know what's going on, you just know that this is the most fun you've ever had, you keep freefalling, hoping that this feeling will never go away! Suddenly, the parachute opens, the freefall is over. WOW! You're hooked, this is incredible, you're never going to stop doing this!

And that's exactly what happened. Ever since 1991, I have never stopped jumping. I have almost 1500 jumps now, and I plan to make thousands more during the rest of my life...

Are you still wondering why you ever want to make your first jump? Here's a couple of reasons:




"Only skydivers know why the birds sing..."


"Parachutists stay up longer, and skydivers go down faster..."


"Because the door was open..."


"If riding an airplane is flying, then rowing on a boat is swimming, get out of the medium, and just JUMP!"


1992 Tandem Jump with my Father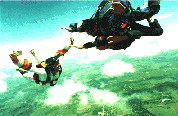 This was a very special jump for me. In 1992, my father came to visit me in Texas. At the time I was fairly new in the sport, I had been jumping for about 6 months, and had made about 100 jumps. I asked him if he wanted to go skydiving. My question did not have a simple yes/no answer. Like anybody else, his first reaction could have been: "Are you nuts?" But he actually obligued because his own son was asking him to go up in the air with him. The fact is that he would have never gone skydiving if I had not asked him to. HE HAD A BLAST!. I was able to show him what freefall is like, and now he understands why I jump all the time, and gives me his complete support. Thanks DAD! My fondest memory of this jump: when I docked with the tandem, my father gave me a pat on the head. You can see him about to do just that in the picture.

1993 Ultralight Jump at a Peruvian Beach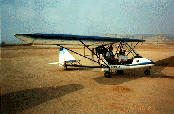 I had come back to Peru to visit my family, and I wanted to celebrate my 200th jump. I had a highschool friend who had some friends at the local ultralight club, so I asked him if I could jump one. He didn't want to lose a friend, so initially he said he couldn't do anything for me. I told him I would be fine, so he arranged the airplane. The ultralight was a 2-seater Beaver, with a push-prop on the back. Getting out was very tricky. I had to coordinate my jump with the pilot so that when I gave him the signal, I would jump to the right, and he would bank the ultralight to the left, to clear the propeller. We climbed to 2000 feet. Oh, it was so sweet. The forward speed was about 25 mph, so it felt much different than the aircraft I had jumped before. I landed on the beach, a multitude of people clapped and ran to greet me. What an awesome experience.

1993 727 Jet Jump at World Freefall Convention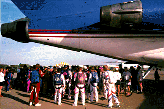 The World Freefall Convention, 1993. I never thought it could be possible to jump from a Boeing 727, but apparently D.B. Cooper was able to do it a long time ago. After hijacking the airplane, he escaped by freefalling away, then landing with his parachute. In memory of D.B., they brought this 727 to the Convention, and I was on the second load. They had never done this before, so exit speeds were quite high, around 150 mph for the first two loads. Jumping out of a jet is literally, a BLAST! When you come off the back of the aircraft, you feel as if you just hit a wall, only it is a wall of air. The following year we were doing 10-way speed stars from the Jet, and today, 727 jumps are available once a year during the Convention. Thousands have jumped from the jet since then. It is still great. But man, that first year, it scared a lot of people.

1994 Naked Jump into Nudist Colony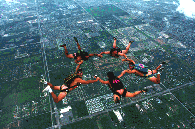 When I tell people that I actually made a naked jump, they look at me funny. We made this jump into a nudist colony in Florida during National Nude Awareness Week. And believe me, I had no idea that people actually celebrated this until I did this jump. We jumped from 7000 feet after a rainshower, so it was pretty cold, and with no clothes on, it felt worse. The freefall was uneventful, by that I mean that none of our private parts fell off during opening shock, so I was pretty glad for that. After we landed, we post-dived inside a pool, we were invited hamburgers and beer, we all watched our video. We figured that right after the jump, we would put our shorts back on and go home, but that wasn't the case. We landed, we ate, we drank, we had fun, and by the time we remembered to go home, 5 hours had gone by. We all forgot that we were wearing any clothes! I am not particularly proud of this, but it is a strange event that I have to chuckle about. To date, I have still not used the VIP pass to any of the participating nudist colonies in the nation, which we were all awarded when we landed.

1994 232-Way World Record Attempts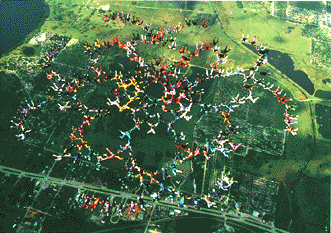 I participated in this event in 1994 and 1995, in Lake Wales, Florida. These record attempts are historical. Even though the record was not beat, one of the most impressive feats of the event was the number of aircraft involved in each jump, 10, yes, that's right, TEN AIRCRAFT! 5 Twin Otters, 2 Casas, 2-DC3's, and a King Air. I believe we actually used a Pilatus Porter and another Otter the following year as replacements. I had the opportunity of watching the aircraft formation once from the ground, it was the most impressive display I have ever seen, ten airplanes in formation, dropping over 230 skydivers! Simply breathtaking, and lots of fun.


1996 104-Way Texas Record Formation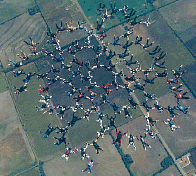 With only 8 attempts, we were able to complete this 104-way over Dallas in 1996, beating the earlier record of 80 several years prior. The best skydivers from all of Texas, and from out of state got together for this goal. After completing this formation, we then attempted 2-point 104-way sequentials during the rest of the event. We came really close to breaking this record too! Jumps were made from 3 Twin Otters, a Skyvan, and a Pilatus Porter. Very smooth flying. I had lots of fun rotating between aircraft, so I got to see the formation during my approach from a lot of different angles. The variety of the jumps and the weather made the whole experience fantastic. God I love jumping....


1997 4-Way Team

- "Crosskeys Speed" Training JumpsTraining Jumps
In 1997, I was part of a team made up of 4 guys with an awesome dream: to place in the top 10 skydiving teams of the nation. In preparation for the 1997 U.S. Nationals held in Perris Valley, California, one of our teammates broke a leg 1 week prior to the event, and we could not go. With two guys from New York, and two guys from Florida, we got together at least once a month to crank out some beautiful skydives. We trained in New Jersey, Deland, and Arizona. Above you can see "Cross Keys Speed" cranking out formations at a fast pace in Arizona.




1997 100-Way Jewel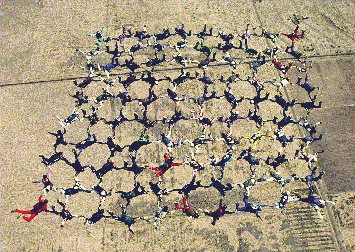 The best 100 competition skydivers were invited to this event, and the hardest formation ever assembled in skydiving history was built. This highly symmetric formation is extremely hard for many reasons, one of them is that skydivers are required to build "in-outs" and "donuts", where many skydivers (as many as half of them) could be facing away from the center of the formation. Another difficult thing about this formation is that because of the proximity of the jumpers, this formation does not like to fall fast, unlike others with lots of openings in it. Therefore, the outside rows of this formation are hard to complete. In order for everything to go well, it requires very fast falling people in the inside, and lightweights of very experienced floaters on the outside. 100-way jewel, what a beautiful thing, it flew for 6 seconds! Prior to this record, all of us were performing 4 and 6 point 32-ways, and 3-point 64-ways. There were many attempts made in the last couple of years to do the jewel, however the only place it could have been accomplished is in Arizona. And it happened. Who knows what Airspeed and Arizona have prepared for the years to come,, but it surely will again congregate some of the best flyers in the world, to do more incredible stuff.

1997

4-way training - South Africa Teamh South Africa Team
These are easily some of the most gratifying and awesome jumps I've ever done. We jumped with two member from Team South Africa, that placed 3rd in the World Skydiving Championships. Just plain HARDCORE SKYDIVING at it's best!!!!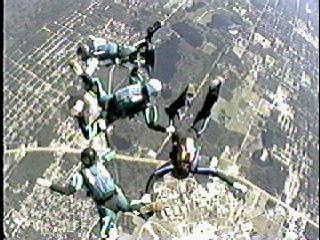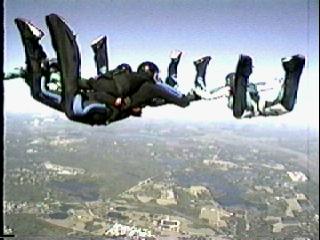 1998: Second Tandem with Father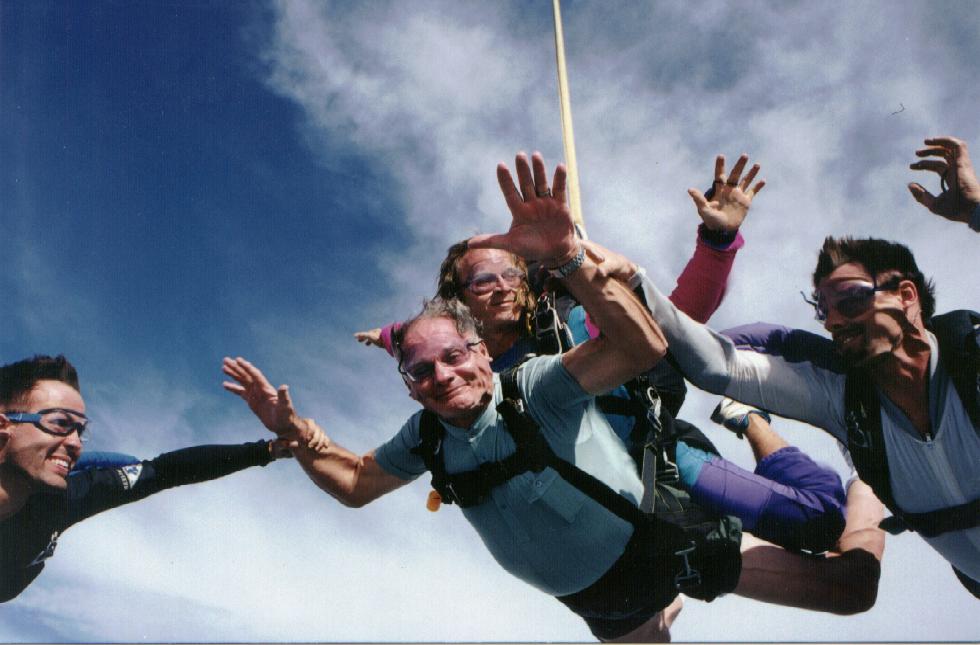 My dad had the courage to do it all over again, and remind himself of the pleasure of skydiving a few years ago. This time he did it in Zephyrhills. Team Frost, plus a cameraman, all docked with the tandem. My dad this time was able to share the sky with us. This was definitely an unforgettable moment for both of us.
1998-
2000 Team Frost "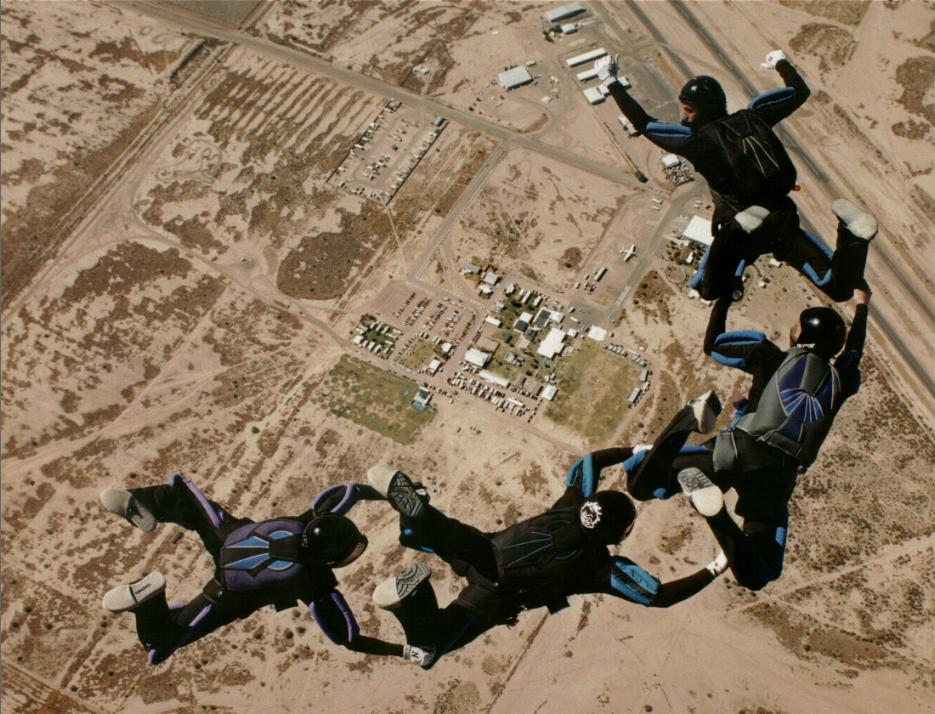 Team Frost has been my main focus in skydiving for the last 2 years, and I have plans to continue the tradition of Frost in Florida.. The 4way team renovates every year at the end of each skydiving season, marked by the US Nationals in September. The team has earned its reputation by placing first at the US Nationals in the Advanced Category for Formation Skydiving. For 2001, we plan to make Frost an 8-way team.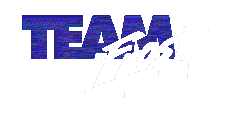 2000: Mission Impossible Jumps
George Jicha came from Arizona to put together these awesome jumps from the talent pool in Florida. We look forward to having more of these events soon.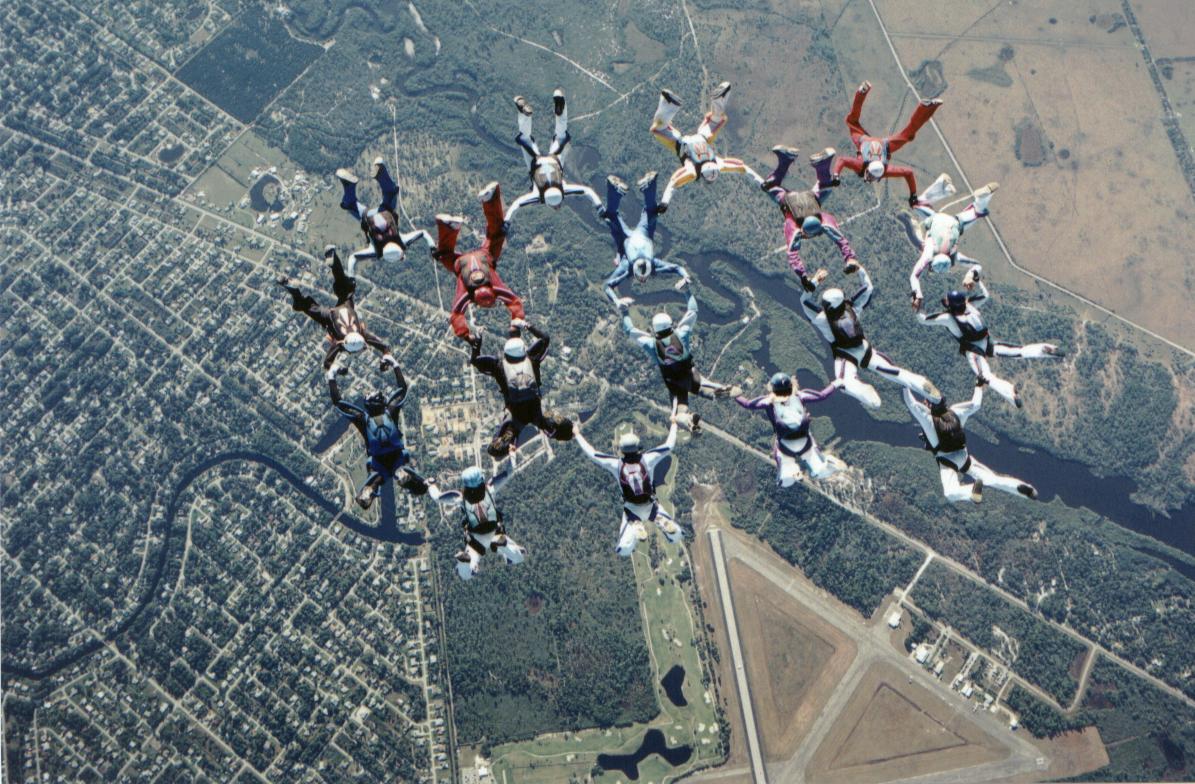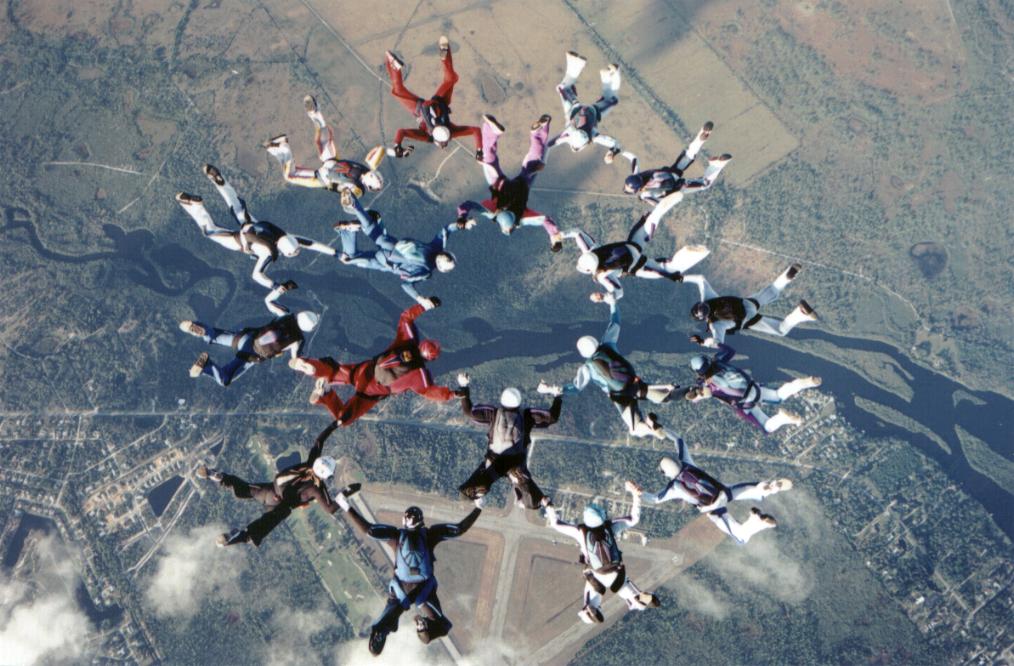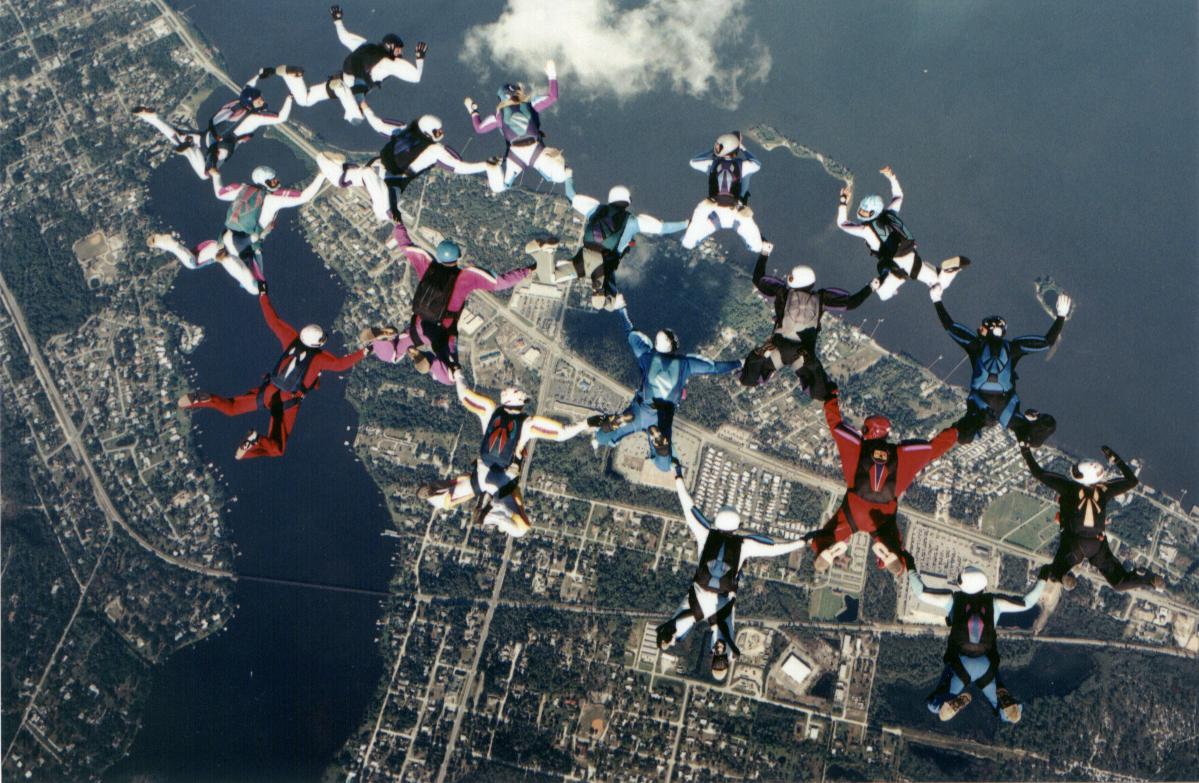 2001: 4-way Training Camp with the Norgies: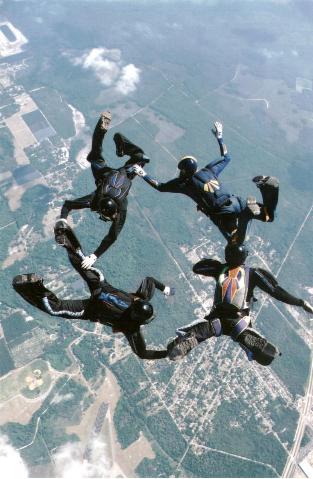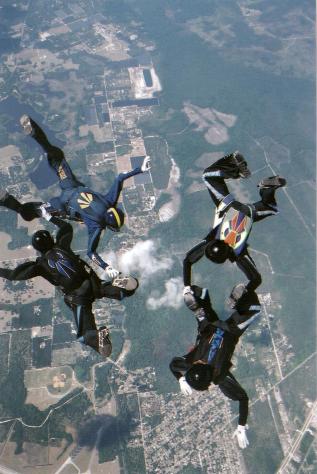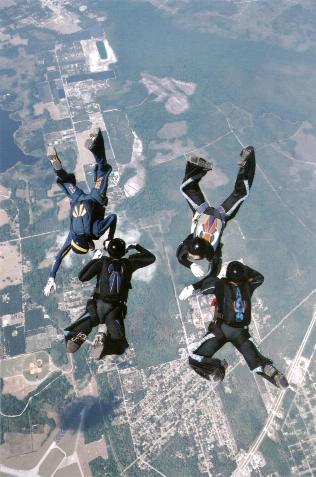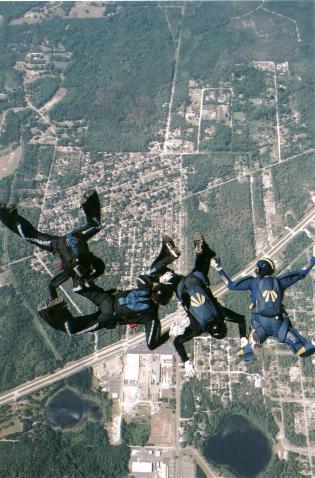 Swooping the Ditch in Deland.....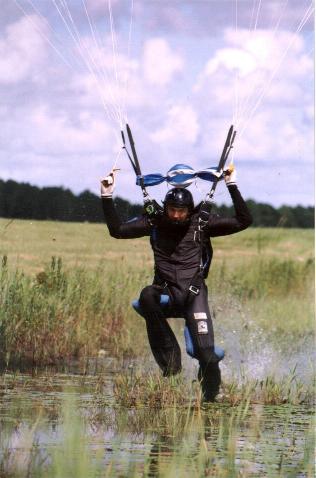 8-way with Friends in Deland: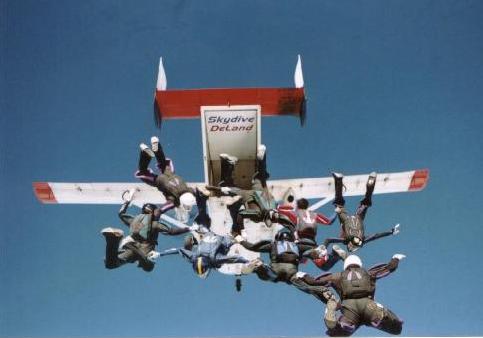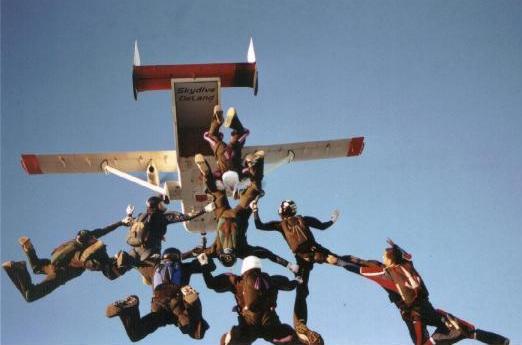 Big Ways in Deland: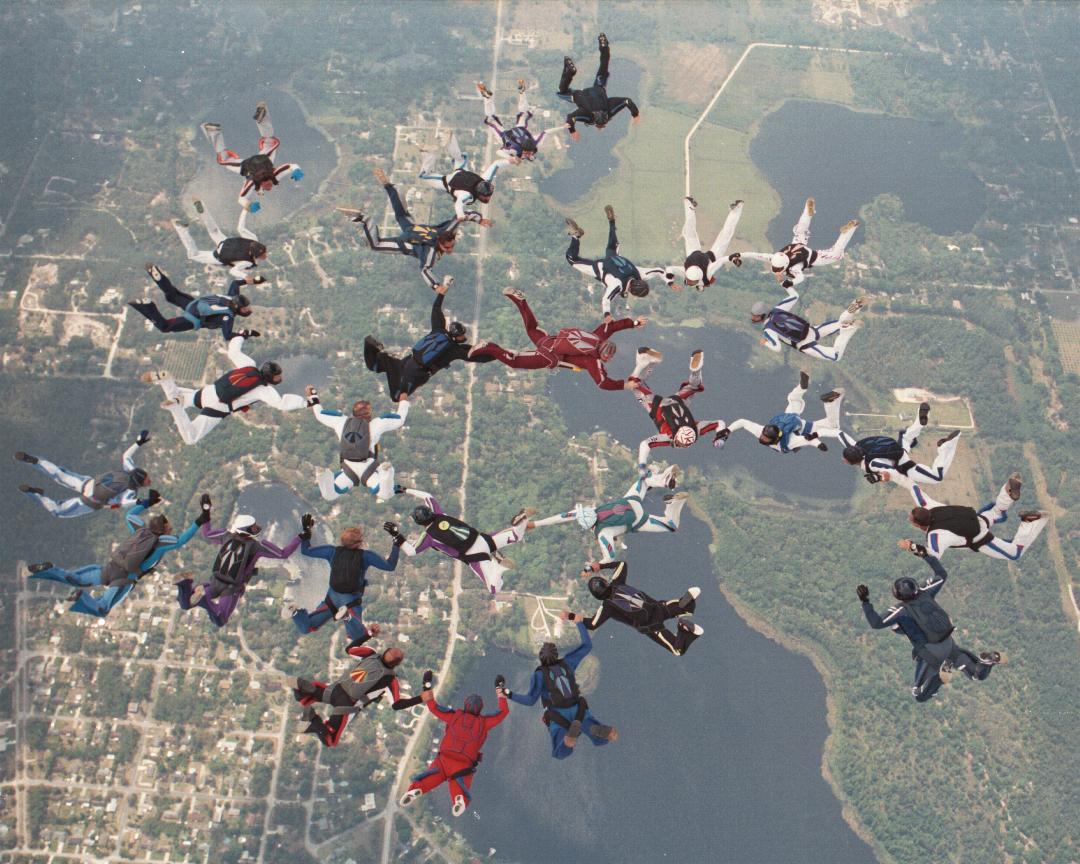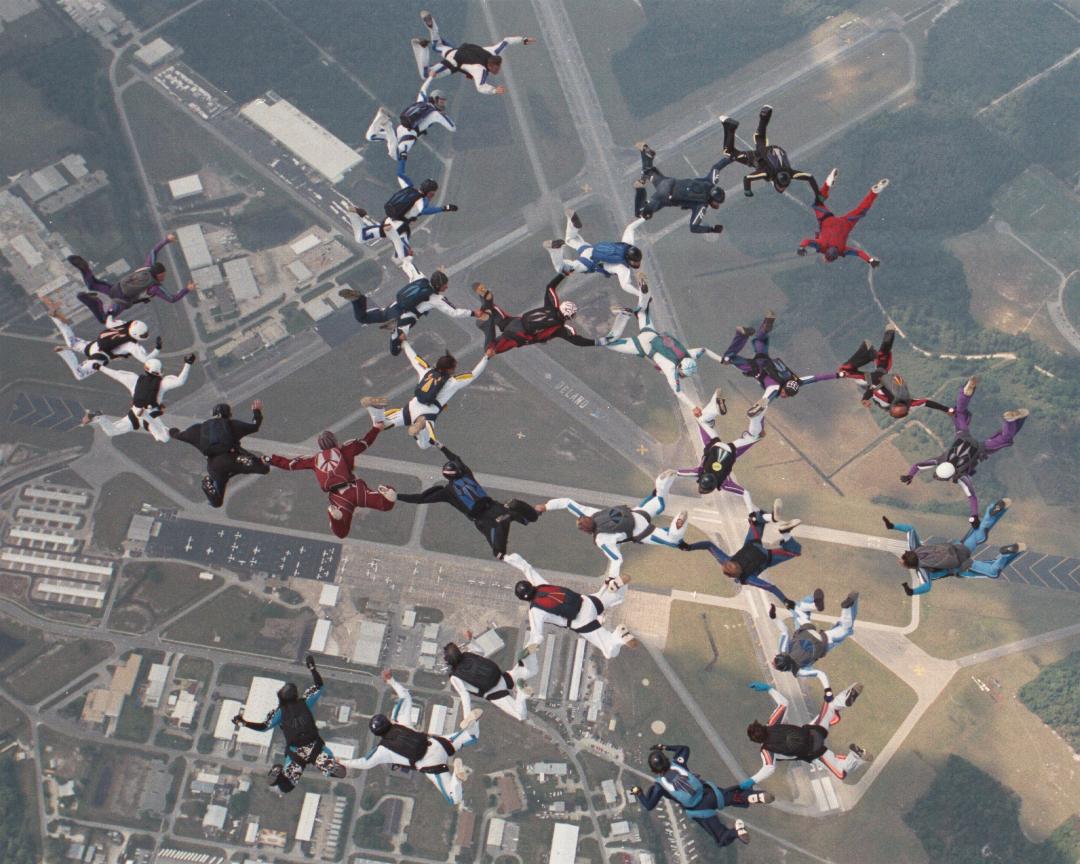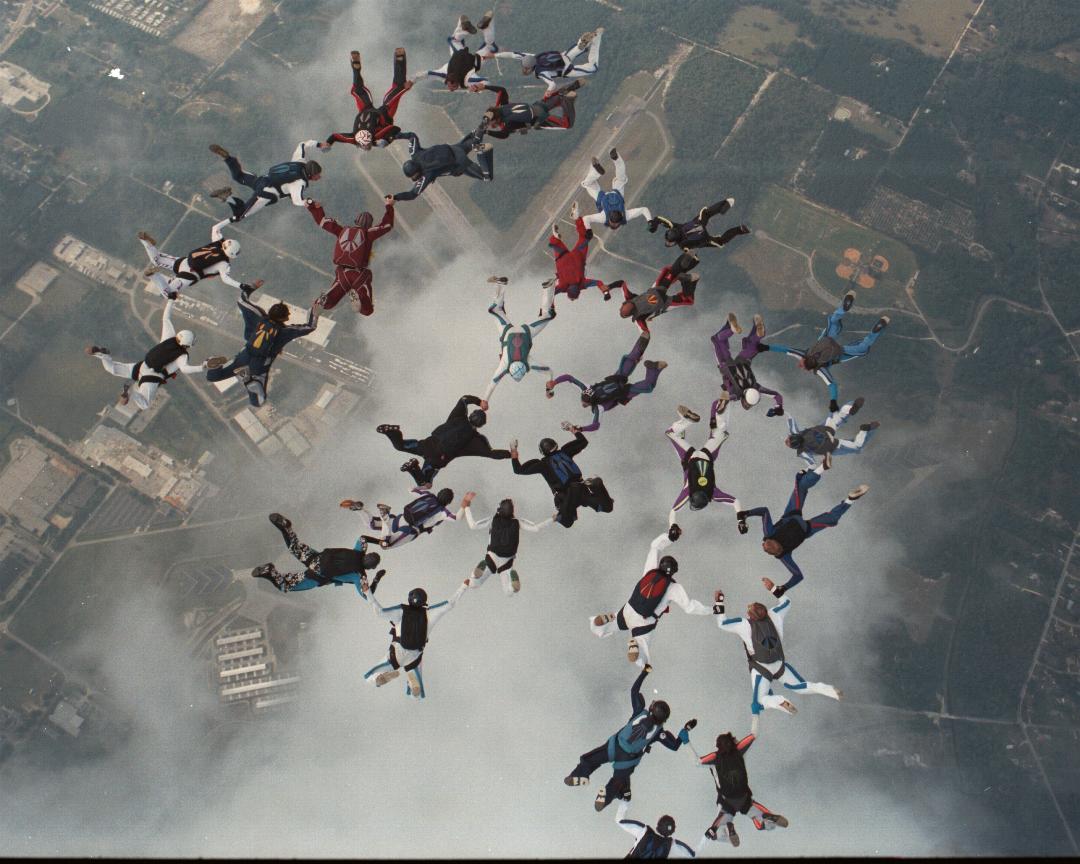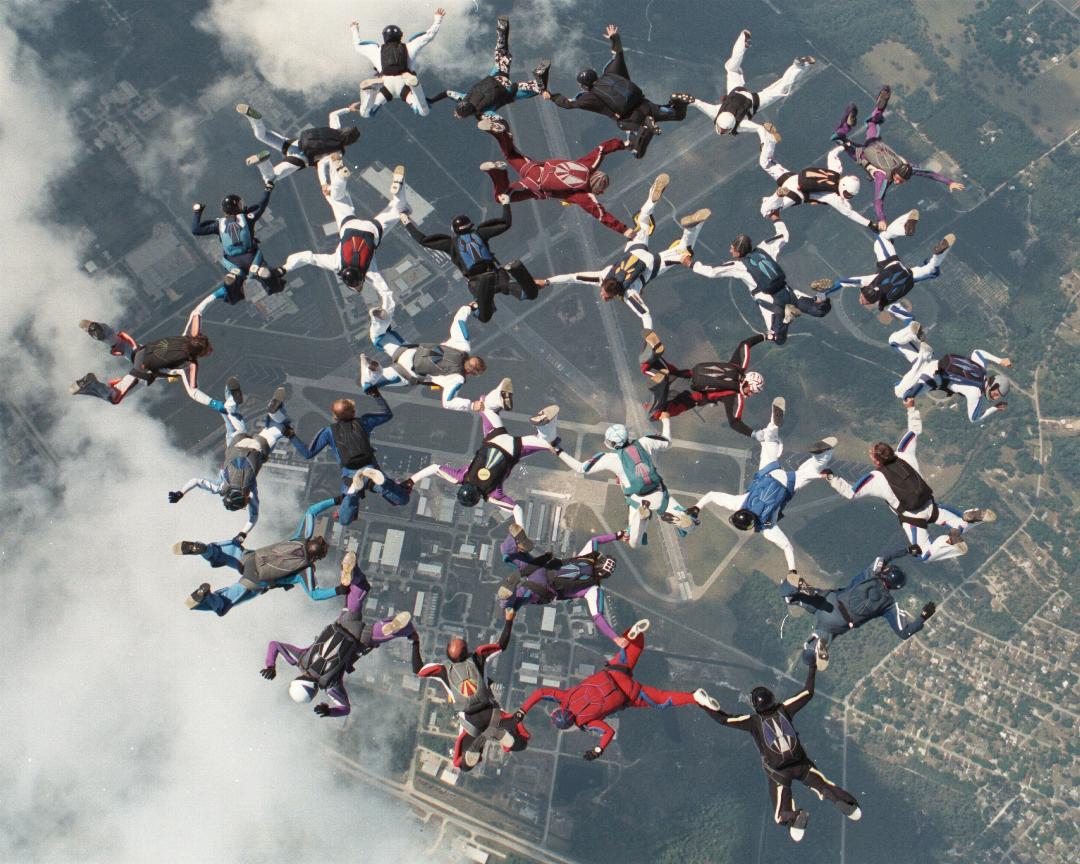 Awesome Skydiving Videos
Fast paced 2-way over Skydive Space Center (1.2 MB)
Team Frost, tearing up the skies of Florida (
Drop Zones Attended
Flagler Aviation (FL)

Skydive Spaceland (League City,TX)

Skydive Tecumseh (Tecumseh, MI)

Collique AFB (Lima, PERU).

Other Skydiving Links
Skydive.Net-Swiss Skydiving Pages